The passionate report of Jose' and Chantal Grevin to the French entrepreneurs
Echoes from the EoC meeting in Belgium, from October 9-11
By José and Chantal Grevin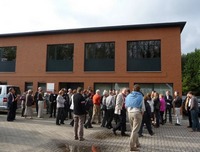 We´re arriving after three days at Mariapolis Roselaar in Belgium, 30 km west of Brussles, where we were able to visit the EoC industrial park with it´s two businesses. For us, who usually meet at the Mariapolis in Arny, being able to spend these days there was a true discovery. We saw things that, for us here, are still only a desire in our heart. There is a center for meetings, from the beautiful and pure architecture to the harmony with the people who welcomed us and put themselves at our disposal. And despite our different cultural backgrounds, we were able to get to know one another deeply, in a warm climate of reciprocal trust and communion.
B
etween entrepreneurs and those committed in the EoC, we were 83 people coming from five Northwestern European countries (Germany, Austria, Belgium, Switzerland and France). We left the meeting with great impetus to radically live the EoC and make in visible around us and in the project of the Mariapolis in France. In talking with others, We stayed particularly close to those who are suffering in their business, because of the crisis, or in their families, because if illnesses.
The program was very dense with moments of spirituality, small groups for exchange (mixed between countries and languages), current and prospective EoC news... In these moments we all experienced how the experiences of each one is light for the others.
Luigino Bruni, international coordinator of the EoC, spoke strongly, giving us back the deep sense of the vocation of the EoC entrepreneur. He highlighted the goal of the EoC, which is fraternity with the poor, and how to live this relationship and turn the existing way of giving and loving upside-down. He show us the height and vastness of the EoC´s goals, and made us aware that we are usually looking at our finger that points to the moon rather than at the moon itself - a transformation of perspective that lead to very concrete resolutions at both a personal and group level. It is a transformation which we commit ourselves to tell to all the French entrepreneurs who were not able to come to Belgium when we have our next meeting in Arny. Everything was so luminous that it was impossible to not notice the present of the Risen One in our midst, who brought us beyond ourselves.
We can stop ourselves! Our first goal is to relive the experience there with all the French entrepreneurs here, for the next meeting in Arny. It´s also impossible to not bring ahead what was started with this European meeting. We´ve decided to repeat this fascinating experience in October of 2010, in the Mariapolis of Baar, Switzerland. Then, for who will represent us, there is the 20th anniversary of the EoC which will be celebrated in Brazil in May of 2011, with delegations coming from all the countries in the world! But without waiting for these big appointments, we can remain united with the exchange of news and emails which help us to live for one another and love the other´s business as our own. We assure each one of you that our only desire is to be at your service for everything that the Holy Spirit will suggest to you.