Presentation of the book " The Civil Enterprise"
An Italian way towards market economy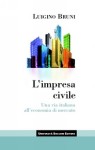 Luigino Bruni,
2009, Egea editore per i tipi di Università Bocconi Editore
Monday 8th June at 6.45pm
Libreria Egea
Via Bocconi 8
20100 Milan
Speakers : Luigino Bruni, Maurizio Mancuso, Pierluigi Porta
Moderator : Giuseppe Frangi
Entrance free - For further information: This email address is being protected from spambots. You need JavaScript enabled to view it. , tel. 02 5836 2032, www.egeaonline.it
In this age of economic and finiancial crisis there are many things that need to be reconsidered if we want to imagine and build a market economy and a model of sustainable development.   Amongst these "things" there definitely is the business enterprise.   It is not enough that this produces a high quality product, that it provides income, creates jobs; not even that it pays the due taxes. It is ever more evident that the business institiution is called for something "more" that turns it into a true friend of the city, and in such a way will be perceived as a constructive element of the civic fabric.
The idea behind the book is the italian tradition of civic economy, which originates from Humanism and then from eighth-century Naples.  Such tradition can yet today offer suggestions and new ideas about how to imagine a civil business enterprise which, whilst remaining a business (and not necessarily a non-profit business), is, however, a place and means for civilization to occur and for achieving a good living.   This goes beyond the argument non-profit/for-profit, so typical of the anglo-saxon tradition, and also picks up again the italian tradition of business economy.   In this context what really stands out is the analysis of the entrepreneur as a social figure who, in contrast to the speculator, assumes the characteristics of a civil entrepreneur.