The 10th CGM Cooperative Group convention closed in Geneva
When cooperating, everything changes
By our correspondent Silvano Gianti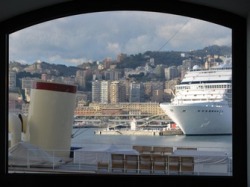 (Geneva – 13.11.09) - At the Cotton Warehouse Pavilion in Genoa, this morning, the work taking place at the CGM Cooperative Group convention concluded. Three intense days of round tables, debates, projects and comparisons on a very current topic: "Cooperation brings change, new scenery and new welfare".
The convention began with a presentation on cooperatives, and four documentaries on family, immigration, disabilities and work set the tone for reflections on what moves the daily life of the CGM. Then, the protagonists themselves animated a lively discussion, triggering reflection based on concrete experiences.
See Luigino Bruni´s presentation
Faced with the world crisis, it is necessary to rethink the trajectories that led certain models of cooperatives to where they are today, starting from the grassroots. "What´s needed", said presenters, "is to put our ears to the ground in order to hear the sounds of what is moving in the territory, and consequently look for new instruments of cooperation".
"We're convinced that restarting from the needs of a territory is the key to updating the instruments that carry out CGM´s mission, which remains the same - "doing community welfare" - even while our very communities change." For example, some of those changes can been seen in preschools, whose care now extends beyond caring for children and includes educating parents in parenting, as many have lost such orientation from older, informal social networks. Home healthcare assistance services have also changed - beyond "producing" care for people, they also act as family consultants on new types of care (mostly caregivers and volunteer networks). And the prison system has also seen changes, always more oriented towards cultural mediation due to a growing bi-racial prison population.
In a time when social services are undergoing profound "changes in paradigm", this convention pointed out a few priorities: updating instruments, techniques, and competences in our daily work. Perhaps we also need to change a certain culture of cooperation - until now responsibly acting exclusively for the "disadvantaged" - taking into consideration the fact that the very category of "disadvantaged" has changed color and features. The long wave of social discomfort is lapping around the edges of classes once excluded from risk. But one idea remains firm: even if the scenes and cooperatives change, the same logic will remain: the good that exists in working for the common good. "We're aware that beauty is born of fatigue", said the conference presenters. "This is how we would like to face the undertaking of working for the common good in the next few years".