Making fraternity's fragility a paradigm: responding to an appeal for new responsibility
Towards responsible fraternity
By Stefania Nardelli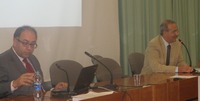 Last November 19, in the Pescara Airport, mayors, councilors, politicians, entrepreneurs and many interested young students met with Luigino Bruni in the Airport´s conference hall for a meeting entitled, "The Economic and Political Crisis - an appeal for new responsibility".
Looking at both the ancient and modern vision of community, all were able to understand that throughout history, man has always attempted to break the link between "wound" and "blessing" that inevitably arises in interpersonal relationships. It's an attempt to search for "the blessing without the wound", finding solutions that make human relationships less painful.
1st part
2nd part
Listen to Luigino Bruni´s Presentation
While in ancient times these solutions were perceived through various understandings of an Absolute that linked human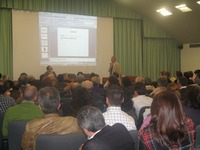 beings together, in modern times the role of mediation is occupied by the state and the market. These two realities free subjects, also through contracts, from every form of dependence on others. The links of fraternity have been thinned by this solution, favoring the creation of impersonal systems (large banks, commercial centers) in which it's difficult to find people who are responsible and available to answer questions, let alone establish personal relationships. Because of this, that "acting out gratuitousness" which translated into the respect of the intrinsic value of life and nature, has been dispersed.
In the debate that followed, Luigino Bruni suggested that it is truly possible to talk about fraternity, gratuitousness, and reciprocity in the markets of public and political spheres, if we admit that we are vulnerable, if we accept not being perfect, if we understand that we need to meet with the other in the community. In summary, it is possible if we make this fragility a paradigm, not suffering from it but managing it, conscious that it will always accompany us.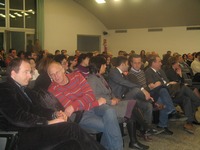 There will be need for a system which does punish those who try to "outsmart" it, but also one that awards virtuous people in order to give incentive to positive behaviors. This system would cover for unemployment, not only with help from the state and big businesses, but by leaving room for civil society to find creative solutions and giving youth the tools to create work rather than to look for it. This system would be more committed to the environment, leaving behind outdated patterns. It would propose solutions to poverty that are not exclusively ordered by economic help, which easily creates dependence, but mostly being a reciprocal gift of knowledge which allows people to grow together.
This meeting with Luigino Bruni, which shed new light on the consciousness of those present (whether or not deeply committed), called all once more to respond to the appeal for new responsibility.