The Commission of the Economy of Communion of Sicily, Calabria and Malta, together with the Banca Ethic are organizing:
A New Economy in an Active Society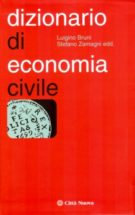 December 16, 2009, at 16.30
Aula Magna di Palazzo Steri
Piazza Marina 61
Palermo

Presentation of the book "Dictionary of Civil Economy," edited by Luigino Bruni and Stefano Zamagni, and published by Città Nuova

Other presenters besides Luigino Bruni and Stefano Zamagni: Fabio Salviato, president of the Banca Etica, Giovanni Barbagallo, Deputy Ars, Steni Di Piazza, Director of the Banca Etica Sicilia, Francesco Viola, University of Palermo, Gianni Nodari, Director of the Institute of Political Formation, "P.Arrupe" Palermo, Giuseppe Pintus, Economy of Communion Commission of Sicily, Calabria and Malta.
This presentation of the Dictionary of Civil Economy to the city of Palermo seems important for us - a very important moment for the Economy of Commuion because this work helps build "a true science and economic praxis that make room for the principle of gift within (and not at the side) economic theory". It is very important in this moment of financial and economic crisis, to give a strong signal of change and of hope, to the city of Palermo and all of Sicily.