"Here is another stone of that cathedral that we are building in the world." Roseli and Armando Tortelli felt expressed with these words of Alberto Ferrucci, who were present at the inauguration of B. Raizes, last October 8 in Curitiba.
born again from the "roots"
by Roseli Tortelli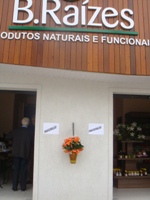 There was an atmosphere of family and of great joy for this new stage of a company that has a history of over eight years. The name of this company, "B. Raizes" has a deep significance and is fully linked to what the Economy of Communion suggests. The "B" commits to what John Paul II said, calling us to "respond to Evil with Good, with a capital G." Raizes (= roots) instead is a response to what Chiara said on the EoC that has "the roots in Heaven." 
A hundred people came by during the course of the day.
A little history: During an EoC Congress in 2003, Claudete Bortoleto Cieslinski felt a strong desire to respond to the EoC project. She herself tells us: "I asked that Ginetta to give me a hand from heaven, because I did not have the means to start a business. She had taught us to believe in divine providence, and with this faith, I went ahead."
During that same meeting Claudete learns that she would inherit a substantial sum. With Otavio Almada an idea was born to start a packaging company together.
As soon as they returned back to Curitiba, Claudete and Otavio busied themselves in finding a place even though they did not have the money to pay for the rent. In the end they found a place given to them by an elderly couple friends. Then after the renovation of the premises, the activity began. We realized that to set up a packaging business we would need a big investment, therefore, decided instead to work with rubber, producing educational toys, especially the "cube of love," a game widely used by the people of the Focolare Movement and others to spread the Art of Loving together with the values of Christianity.
"It went very well with the cube," Claude continues. "As time passed however, it became very difficult to maintain the company for many reasons, especially financially. Then, in agreement with Otavio, my partner, we decided to close the company. But in my heart, I felt that B. Raizes could not die."
At the same time, Claudete began working with her husband, Miguel, who is an expert in alternative medicine. The number of his patients grew more and more, and so did the need for the natural products that were part of the treatment he had proposed. An opportunity came for B. Raizes to change and take on a new name, place, and activity: B. Raizes Natural Products. "At first we were working in the garage of our house, but because of the increasing work, there was a need to open a new place for other people, the general public, because it was no longer possible to continue working at our house, also for security reasons."
So, once again we asked ourselves how to go forward, but this time for a good reason: the activity was successful. During this period, Bruna 
Trennepohl, Emanuel's girlfriend, the son of Claudete who just graduated in Business Managemen, joined the family. Bruna instead has a degree in Nutrition with a wide experience in treating people with diabetes. She thought that the city had to offer these people, who need special care, a place where to find a diet that works, such as those of natural and organic. It came natural then that the two of them, Emanuel and Bruna, had the desire to take over B. Raizes.
And here we are today, at the inauguration of the new place on October 8, 2011, that is now open to all who visit and want to know more: B. Raízes Natural and Functional Products. "The manifestations of Providence are a confirmation that we are on the right path," Claudete concluded.
Here are some photos of the inauguration: