Brazilian EoC meets Maria Voce Emmaus and Giancarlo Faletti, president and co-president of the Focolare Movement, respectively.
by Mariele Previdi (*)
published on focolares.org.br on 15/04/2014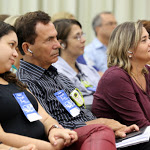 A decisive step for the EoC in Brazil, a meeting of Maria Voce (Emmaus) and Giancarlo Faletti with the EoC committees, the Administrative Council of Polo Spartaco, entrepreneurs from all over Brazil and some students - altogether about 90 people - took place on 11-12th April at the Mariapoli Ginetta (Vargem Grande Paulista, SP).
The meeting started with the presentation of an account of the life of the EoC this year and some proposals for strategies. The real highlight was, however, the meeting with Emmaus and Giancarlo who, with their answers have reactivated the enthusiasm of those present, who have developed a number of contexts for activities in these 22 years.
Giancarlo Faletti recalled the prophetic dimension of the EoC: 'It is the experience of those who believed in Chiara's words. The experience of the prophet: he brings something new originating from God, but has to cross through a desert of difficulties. And this fills the experience with the sensation of sacredness.'.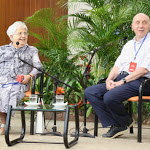 Giancarlo also recalled the time when Chiara launched the Economy of Communion: 'Above all I remember that she paused and remained in complete silence for about a minute before starting to speak. I think it was a minute of dialogue with the Holy Spirit. Having come to Brazil helped me to understand it better. Chiara's inspiration was an annunciation. I believe that we should embrace this dimension of incarnation. This is what you are living.'
Emmaus restated what she had said the day before upon her visit to Polo Spartaco, affirming that 'we should make the communion grow inside the pole, through mutual help between the companies and the poles, as well as other parts of the Focolare Movement,  the Church and the world. The more the communion grows among us, the more the Holy Spirit will make us see the next step to be taken.'
In the presentation of the EoC by Emmaus and Giancarlo, the map of Brazil provided a detailed visualisation of the locations of the poles, the businesses in the country and also the number of people helped by the resources allocated for the poor. Today there are 154 businesses in Brazil that either belong to or sympathise with the project, and eight of them are found inside the Poles Spartaco (SP) and Ginetta (PE).
The current challenges were presented, among them the need for training the entrepreneurs and accompanying businesses that are in difficulties in a more systematic manner, apart from investing in the spreading of the EoC culture.
Luis Collela, from San Paolo, who is a member of the Council of the National Association for an Economy of Communion (ANPECOM), made a good summary of the different impressions lived during the event: 'This meeting has left a sign that there is a before and an after the visit of Emmaus and Giancarlo. The communion we have experienced here has been so deep that it lit a new "fire". All participants left the meeting with the desire to create more instants of communion and to reconsider each individual's task inside the EoC. We have received a call: once we said yes and now it is time for a new beginning.'
(*) With the collaboration of Regina Luz Vieira and Carla Cotignoli
Here photogallery