LoppianoLab is inaugurated. An original attempt to put together energy of thought and action, looking at Italy's needs.
At the Expo, they speak the language of sharing
By Pietro Parmense
Published on cittanuova.it on 17/09/2010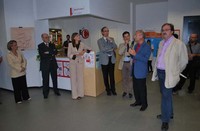 What beautiful people there were at the inauguration of LoppianoLab, which involves four subjects inspired by the Focolare: the small town of Loppiano, Lionello Bonfanti Business Park of the Economy of Communion, Sophia University Institute and Cittá Nuova Editorial Group. They are all involved in the "2010 Expo, businesses in a network: an innovative answer to the crisis", organized at Lionello Bonfanti business park of Loppiano (Incisa Valdarno). Beautiful people. First of all, in these days from September 16-19, many entrepreneurs want to highlight their commitment to a more livable economy and a more dynamic Italy. We're dealing with 50 Italian businesses of various types, adherents to the Economy of Communion project, who are presenting themselves in expositions, shows and round tables. There are businesses of civil economy who promote ideas and projects that bring about an economy at the service of the person and of society. It is a chance to exchange about energy and the environment, ethical finance and sustainability, social interventions and the promotion of health.
The evening of September 16 was the inauguration of LoppianoLab, in which the 2010 Expo is a part. It is a completely new initiative aimed to be the hub of numerous appointments, debates, round tables, and expositions. It was launched this year by the international center of Loppiano, which has been avant-garde in intercultural and social dialogue over the last 45 years. It's a global and innovative challenge to share experiments and praxis of cohesion and innovation in economy, culture and formation - a contribution of innovation and vitality for the country.
The mayor of Incisa Valdarno, Fabrizio Giovannoni, said, "We need to compare notes on some of the topics that make us embark on the road to development, which has been missing for some time." Eva Gully, president of the Lionello Bonfanti business park, greeted everyone present to "the home of entrepreneurs", as Chiara Lubich defined it, wishing that these days "be a great sign of the desire to go ahead in a network". Danilo Virdis, Director General of Cittá Nuova Editorial Group, underlined how, "in a time of serious crisis for all editorial businesses, this initiative is a light of hope for many", while Sergio Rondinara of Sophia University Institute underlined the contribution of thought that these days can bring to the debate on innovation, which seems to be lacking on the peninsula. Finally, Daniele Casprini of Loppiano underlined how all of LoppianoLab be "an attentive and trusting gaze on our afflicted Italy". "Course of innovation in answer to the crisis" is one of LoppianoLab's slogans. In a time characterized by distrust and lack of initiative, the protagonists of LoppianoLab are going against the current.