What is an EoC company? Entering into the heart of the programme on the third day of the school.
by Lili Mugombozi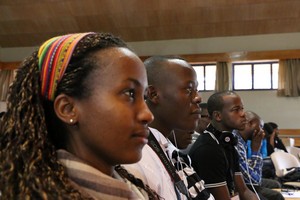 A journey into corporate culture. Today's session also starts in a very original way. Starting from the morning, entrepreneurs take turns at the microphone or through video messages, telling their personal stories about the adventures of their respective companies from the perspective of the culture of the Economy of Communion.
From Italy to Germany and to the Democratic Republic of the Congo, entrepreneurs fascinate the audience by the integrity with which they live their dreams. On the one hand it is about alleviating poverty and living the culture of giving, but on the other it is extremely important to aim at building relationships of trust with suppliers, workers and consumers of their products and services, and also with their competitors...
The dynamism and creativity with which they deal with the challenges is also striking. "What to do when a society is torn apart by corruption?" "And when the state is not strong enough to protect human rights? Or when we get discouraged and harassed with excessive fees
without even being provided the necessary infrastructure?"  "What should we do when we realize that in our society money has become a little god?"
A lively and thoughtful dialogue unfolds, involving first of all the young professionals and entrepreneurs in the early stages of their business activities. And one cannot but note with some admiration that the International EoC School is made up of a group of completely unique people: college students but also young professionals and entrepreneurs.
We should not underestimate the fact that in Africa, it is not uncommon to "get to the end of the month" (that is, many people have trouble making ends meet), individuals or families must have side jobs to increase their monthly salaries; but this goes for those who actually have a salary - and what about those who don't?
The young people who are here are not exempt from this experience either. As teenagers, many of them have had to try to earn some money to help their parents to provide for their personal needs at least. Those who attend the College, if they do not work
part-time, they have some activity to look beyond their own needs: family needs: school fees, rent, medical expenses, food etc. For many reasons, the small business is everyday life. But how to do business? Only for survival? Or to increase one's own business and produce lots of wealth? The challenges of poverty on the continent are there for all to see...
Anouk Grevin and Giuseppe Argiolas lead the classroom into the discovery of a new way of thinking about the enterprise: as a culture in its own right. The EoC businesses are not machines that produce money, "what are they then?" a young man from Madagascar asks, amidst laughter and perplexity.
From the culture of giving to creatively produce goods and services purely for the service
to humanity around us for the renewal of relationships, young people discover their "call" to create a new world renewed by reciprocal relationships at all levels. A true reversal of mentality!
When Luigino Bruni notes that Chiara, when visiting Brazil  in 1991 was not scandalized by poverty but by the inequality  between the rich and the poor, the focus becomes clear. A young journalist puts it this way: "I am beginning to see more and more clearly. And I understand that the EoC has many definitions". And a young lawyer from Congo: "I only have a small studio, and my dream already contemplates a big EoC company. Just after finishing my studies, I realized that I have a responsibility towards society.  These days are a time of deep reflection for me." Another young lawyer who is from Nigeria and who also works as a consultant for an agricultural enterprise, sees these days as a stimulus to improve his work especially for the poor in his country. The adventure continues!