The Opus College of Business (University of St.Thomas) organizes the event:
The Entrepreneurial Vision of the Economy of Communion
Creating a Business Where All Can Flourish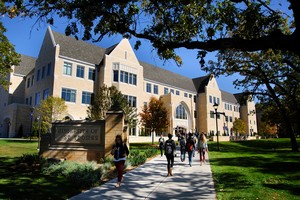 Tuesday, April 14, 4:45 PM
St. Paul Campus
Anderson Student Center, Woulfe Alumni Hall, 3rd Floor
2115 Summit Avenue
St. Paul, MN 55105
The Economy of Communion (EOC) and its 850 participating businesses worldwide have drawn the interest of entrepreneurs, economists and scholars attracted by their unique focus on business management and culture. EOC companies share a set of values they see as the foundation for business practices that emphasizes a culture for "giving" over a culture of "having."
The centrality of relationships in the workplace – with customers, clients, financiers and society at large – is a key element in the EOC way of thinking. Personal growth and development, cultivating workplace harmony and sharing profits with the poor are also key to their approach.
EOC businesses operate as for-profit enterprises, competing in the marketplace alongside other, more traditional businesses. Their hope is that through ethical practices and the spirit of community they can contribute to greater unity, or communion, in the world. Like the Focolare ecclesial movement in which EOC has its roots, they focus on dialogue as a
method for building bridges and relationships of fraternity among individuals, peoples and cultural worlds.
The Higher Calling series is a collaboration between the Veritas Institute, the John A. Ryan Institute for Catholic Social Thought and the Habiger Institute for Catholic Leadership of the Center for Catholic Studies at the University of St. Thomas. This annual event convenes thought leaders in various disciplines to discuss and explore the intersection of meaning and business.
This year's event, "The Entrepreneurial Vision of the Economy of Communion: Creating a Business Where All Can Flourish," will feature John Mundell and Nicola Sanna, entrepreneurs in the Economy of Communion, and John Gallagher, Ph.D., who, with Jeanne Buckeye, Ph.D., of the University of St. Thomas, has researched and written about the EOC.
Dinner will be provided as part of the roundtable discussion.
Agenda:
4:45-5:30 p.m.  Registration and Reception
5:30-6:25 p.m.  Featured Speakers
6:25-6:40 p.m.  Respondents
6:45 p.m.          Dinner is served
6:45-7:20 p.m.  Roundtable discussions
7:20-8 p.m.       Discussion and Q&A
Cost: The event is free, but registration is required.
Web registration for this event is now closed.
For further information, please contact Naomi Sack at This email address is being protected from spambots. You need JavaScript enabled to view it. or (651) 962-4293.
download flyer
website: http://www.stthomas.edu/business/events/college-events/2015-5-14-higher-calling-series.html