33rd Meeting of the Economy of Communion in Argentina entitled:
"Life Quality, Happiness and Relationships"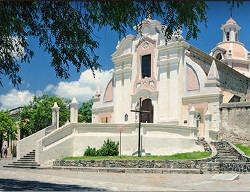 25-27 April 2014
Centro Mariápolis Alta Gracia
Ruta C-45 Km. 2, Alta Gracia, Córdoba
Argentina
Like every year, April brings along the joy of the usual meeting of the Economy of Communion in Argentina. It is one of the two occasions organised on an annual basis, continuing what has already become a consolidated tradition.
In 2014 the venue picked for the meeting is Alta Gracia, a beautiful city in the Province of Córdoba, Argentina.
The programme foresees the annual assembly of the shareholders of Unidesa, the society operating the Polo Solidaridad (Mariápolis Lía, O' Higgins – Argentina), the culture of giving and meeting the poor.
The occasion will be dedicated to share in experiences, communion, training and, of course, recreation. Life in itself is already a shining expression of EoC. Like a friend said, the companies, poles and theories will all be gone. What will stay is the people who will have given their lives to construct them in communion.
All entrepreneurs, workers, students, scholars and those generally interested in Economy of Communion are welcome to attend.
For further information please turn to: This email address is being protected from spambots. You need JavaScript enabled to view it.
see
Flyer