Scholars and representatives from business and international organisations gather with the Pope to focus on the "culture of waste" that disposes of human beings as if they were "rubbish". The Economy of Communion's work at weaving networks.
source: Focolare.org on 21/07/2014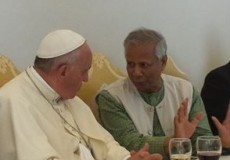 An open discussion among "alternative" economists, the world of finance and transnational societies. Among the 50 participants, Nobel Laureate Professor Muhammad Yunus (Banker to the Poor); Secretary General of Caritas Internationalis, Michel Roy; and Juan Grabois (Argentine founder of the Movement of Excluded Workers); but also Jose Angel Gurria, Secretary general of the OSCE; and the highest ranking representatives of the International Monetary Fund, the World Bank, Goldman Sachs Investment Bank and multinational companies such as Nestle and Ferrero. Also in attendance as supporters of the event were economists Stefano Zamagni, Leonardo Becchetti and Luigino Bruni (Coordinator of the Economy of Communion Project).
The conference was titled "The Global Common Good: Towards A More Inclusive Economy" following after Evangelii Gaudium with its attention to social issues, particularly the global economy it accuses it of being an economy of
exclusion. In collaboration with the Pontifical Council for Justice and Peace, these experts held a two-day conference at the Vatican on July 11-12, 2014 to deepen the dialogue that then led to the signing of a document calling for an economy that places the human person at the centre, signed by the participants, and titled "Beyond the globalisation of indifference, for a more inclusive economy."
The document stresses the importance of the market being inclusive and creating work and wealth. It invites those in charge of institutions to more decisive action against tax shelters; to safeguarding the biodiversity in economic and financial forms which are threatened by a single way of thinking that threatens local and territorial organisational forms; and of supporting the development of new financial institutions include the poor; of overhauling economic theory basing it on more humane and realistic hypotheses; of combatting discrimination against women; human trafficking, international criminality, corruption and money-laundering..
The conference gained the attention of Wall Street Journal which, in one article underscored states: The debate matters beyond the church. Catholics constitute about 17% of the world's population and a greater proportion in Latin America and swaths of Europe, so the church's teachings on business can affect commerce world-wide.
The Pope invited the attendees to reflect on reality, but to reflect without fear, to reflect with intelligence. He also focused attention on the heart of the problem that has been brought out by the economic crisis: "anthropological reductionism." Man loses his humanity and becomes "an instrument of the system, the social system, economic system, a system where imbalance reigns. When man loses his humanity, what can we expect? What happens is what I would call in common parlance: a policy, a sociology, a throwaway attitude. One discards what is not needed, because man is not at the centre." And when man is not at the centre, another thing is and man is at the service of this other thing. "Many of
Pope Francis' statements struck me," says Luigino Bruni, "especially his way of listening, as if he were there just for us, even forgetting to eat the meal in front of him. Then his gratitude: the words most spoken by the Pope were 'thank you'." "There is no one in the world today with more moral authority than the Pope," said Mr Carney, Governor of the Bank of England. It is true, and in this 'Davos of the poor' the Pope has taught us to choose the point from which the world is to be observed. He has chosen that of the Lazaruses of today. I've proposed at the end to make this 'Davos of the poor' a biannual event, an invitation that I think has a good chance of being accepted."