A week of EoC meetings in Medellin with Giuseppe Argiolas from 20 to 25 October
by Antonio Garcia Martin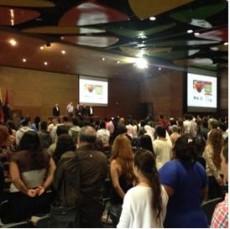 The week of meetings began on Monday 20 October with a conference in the "Centro de Congresos y Exposiciones Plaza Mayor", attended by about 700 people (including teachers, entrepreneurs, workers and many students of many universities in the city). The title of the conference was "Economic Alternatives for Human Development" and along with the economy of communion, the economy of the common good and social economy were also presented. For the opening, the greeting words of the Dean of Social Sciences of the Pontifical Bolivarian University, the director of the Foundation Mundo Mejor (Better World), a representative of the Municipality of Medellín and a representative of the archdiocese were received.
On the sidelines of the conference, the three speakers, Diego Isabel de la Moneda (the economy of the common good), Natalia Quiroga (social economy) e Giuseppe Argiolas (EoC),
together with Steve Carty (Fundación Mundo Mejor) talked about the possibility of developing a collaboration: in fact, different university institutions that were present at the meeting expressed a desire to include these models of economy in their curricula.
In the following days the EoC companies were offered an opportunity to deepen their managerial perspective of the Economy of Communion. Giuseppe Argiolas then visited the premises of the three organizations that so far have been active in joining the EoC.
During the same week the nascent "Study Group of Civil Economy for Human Development" composed of teachers who want to study Civil Economy and Economy of Communion, organized its first public seminar at the Pontificial Bolivarian University. Giuseppe Argiolas was invited to deliver a presentation entitled "Corporate social responsibility from the perspective of the economy of communion", attended by about fifty people, including teachers and students. The lively and exciting dialogue that followed testified to both the desire to continue to explore these issues through the work of the Study Group and the intention to establish a deep and stable partnership with the Sophia University Institute.